Definition of Astm a888 grey cast iron pipe:
Astm a888 grey cast iron pipe is a historical type of pipe manufactured in the 19th and 20th centuries that is used as pressure pipe for transmission of water and sewage. Most Astm a888 grey cast iron pipe that are in service were manufactured by either pit casting or spin casting. The earliest cast iron pipes were vertically pit-cast grey iron.
Specification of Astm a888 Grey Cast Iron Pipe: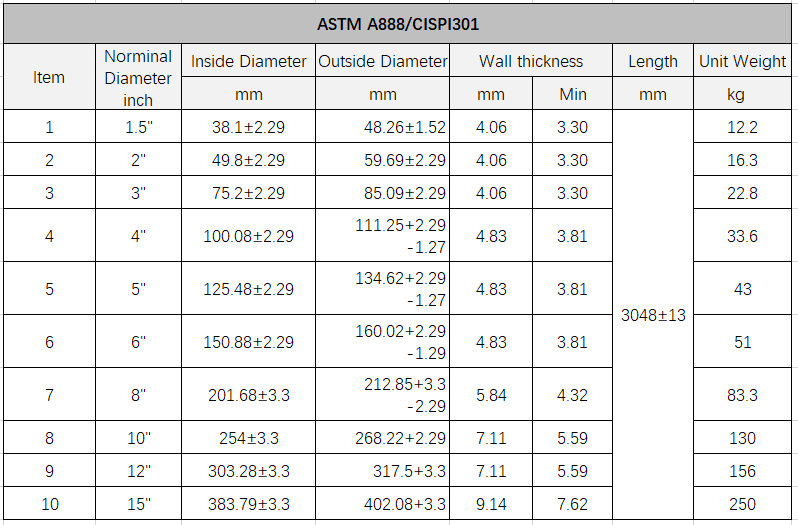 Astm a888 Grey Cast Iron Pipe:
1. Long service life of more than 100 years.
2. Flexible interface. Excellent anti-vibration features, suitable for anti-seismic protection in high buildings.
Whatever axial deformation within 35mm causes no leakage;
Transverse vibration deflection reaches 31,5mm with no leakage;
Flexibly connected by a neoprene rubber washer as an inside lining with a stainless steel hoop, providing good seal and permitting vibration within 15° with no leakage.
3. Centrifugally casted with even wall thickness, fine structure, smooth surface, no casting drawbacks such as pinhole porosity or slag;
4. Low-noise irreplaceable pipes provide residents with the quietest and the most comfortable living environment;
5. Easy installation and maintenance;
6. Light weight. Layout length 20-30% greater than sand casting pipes;
7. Fireproof. Pipes' fire-resistance is well known in the world;
8. High strength, excellent impact resistance, excellent corrosion resistance, excellent aging resistance;
9. Installed pipes are beautiful and decorative;
10.100% of the products pass the hydraulic test to guarantee no leakage from the inside and no infiltration from the outside.
For more specifications of grey cast iron pipe, please click here!