Q: What coatings are recommended for ductile iron pipe in above-ground applications (outdoor, pits and well chambers, vegetation, etc.)?
A: Unless otherwise specified, ductile iron pipe manufactured in accordance with ANSI/AWWA C151/A21.51 comes with a bituminous coating approximately 1 mil thick. This coating, applied for aesthetic reasons, is used under normal conditions for both above and below ground applications. Typically, it is used for above-ground applications such as pump stations, bridge crossings, and pipe support installations. For special above-ground conditions, other types of coatings - such as epoxy - may be used.
Installations that may require this coating are corrosive wet wells, chemical environments, etc. In addition, some installations require a pipeline primer coating. The type of coating specified by the buyer may depend on several criteria, such as resistance to a given environment, temperature resistance.
Although both ductile iron and carbon steel are ferrous metals, there are inherent differences between the two that preclude the use of the same surface treatment and coating application. Attempting to apply steel surface treatment specifications to ductile iron is inappropriate and may actually result in damage to the pipe surface, thereby reducing coating efficiency and life expectancy.
Most coating manufacturers require some type of surface treatment prior to application as a condition of warranty. Since their recommendations for surface preparation will vary depending on the type of paint and the end-use environment, the coating manufacturer's technical data sheet should be consulted each time a special coating is applied. Typically, the recommendations given in the coating manufacturer's technical data sheet are for carbon steel and may not apply to ductile iron pipes. Therefore, the pipe manufacturer should also be consulted regarding the type of coating, the method of application and the type of finish to be used.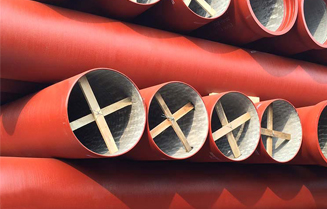 Ductile Iron Pipes
Q: In what temperature range is polyethylene casing effective for corrosion protection of ductile iron pipe?
A: In general, polyethylene shells can remain effective at sustained temperatures up to about 180° F. Polyethylene shells soften at about 200° F and melt at about 220° F to 230° F. Sustained temperatures above 180° F may eventually cause the polyethylene film to become brittle and crack. Stabilizing antioxidants can be added to the film during the manufacturing process to increase this temperature. As long as the polyethylene shell continues to prevent direct contact with corrosive soils, it will continue to be an effective corrosion control system for ductile iron pipes.
Q: Are there any corrosion considerations regarding high temperatures?
A: Corrosion is a redox process in which a metal is oxidized by oxygen in the presence of moisture. The Arrhenius equation shows that the rate of reaction increases with temperature. The rule of thumb is that for every 18°F increase in temperature, the reaction rate doubles. Another factor is oxygen solubility. As the temperature increases, the total solubility of oxygen in water decreases, and the rate of dissolution of oxygen increases. These lines cross at approximately 176°F, which is the temperature at which corrosion is greatest (the maximum amount of oxygen available for fuel corrosion).
Therefore, it is recommended that polyethylene enclosures be used in any high-temperature installation. The maximum operating temperature is 180°F for linear low-density polyethylene and 200°F for high-density cross-laminated polyethylene.
SOLAIRE PIPELINE is specialized in producing ductile iron pipes and ductile iron pipes fittings for drinking water with standard ISO2531:1998/2009 and EN545:2010 and sewage water with standard EN598:2007. and grey cast iron pipes and fittings for drainage with standard EN877 and ASTM A888, and other related products such as valves, joints, manhole covers, and water meters. If you want to get more information about the high quality ductile iron pipes for sale, welcome to contact us.