Valves are an integral part of piping systems used to transport liquids and gases and are available in a wide range of sizes and designs. Their sole purpose is to control and regulate these media in a safe manner. Gate valves and butterfly valves are two of the most popular industrial valves. Both are very different in construction design, use, and operating conditions.
In this article, the valve supplier will discuss the differences between gate and butterfly valves. Before we go into further details, let us first define these two in the next section to find out their differences.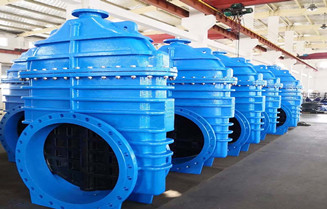 Big Size Gate Valves
Definition: gate valves vs butterfly valves
Gate valve definition
A gate valve, also known as a gate valve, shuts off media in a pipeline by lifting a rectangular or circular "gate" out of the media path. The direction of gate movement is perpendicular to the direction of media flow.
Gate valves are shut-off valves and are used only when minimum restriction and uniform linear flow is required. They can be fully open or fully closed, which does not allow regulation of the media flow. Media discharge is usually complete, with no residue in the pipeline.
Butterfly valve definition
Butterfly valves are also known as flap valves. They consist of a fixed disc on the stem that closes and opens the valve. The disc rotates around the stem to regulate the flow of media in the pipeline. The direction of motion of the valve flap is only rotated in the home position and requires a 90° rotation to fully open or fully close the valve. Butterfly valves can be used to regulate or isolate the flow of fluid and can easily control the flow. However, they can leave residual material in the pipeline.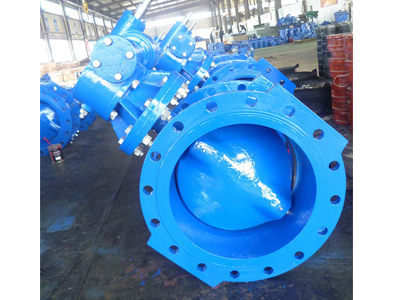 Double Eccentric Butterfly Valves
Differences: gate valve vs butterfly valve
After learning the general definitions of gate and butterfly valves, you may have noticed the differences between the two. The most special is their design, how they work, and the applications they are recommended for. Let's discuss these further by addressing their differences one by one.
Applications
Gate Valve Applications
Gate valves seal well and are commonly used in pipelines that require tight sealing but do not require frequent opening and closing. They can only be used in a fully open or fully closed position and cannot be used to regulate or throttle media flow because precise control cannot be achieved. If the valve is kept in half-open or medium-open condition, the seat and gate will corrode severely in a short time. A chattering wedge can also cause noise and vibration in the pipeline.
In addition, the slow opening and closing operation of the gate valve makes it unsuitable for pipelines that require emergency shutoff. However, when considering the pressure along the pipeline, gate valves can withstand higher pressures compared to butterfly valves. Finally, gate valves are widely used in large pipeline systems that require uninterrupted bi-directional liquid and gas flow or time-based one-way media discharge.
Butterfly Valve Applications
Compared to gate valves, industrial butterfly valves are lighter and therefore easier to operate and install in applications dealing with large pipe diameters. They are ideal for installations where space is limited for the type of butterfly valve recommended. In fact, butterfly valves are relatively more widely used in large sizes compared to gate valves.
Because of their fast opening and closing speed, butterfly valves can be operated frequently, making them ideal for applications that require fast opening and closing, especially for emergency shutoff. In addition to cut-off purposes, they are also used to adjust or throttle flow rates. For pipelines containing small impurity particles, butterfly valves are recommended. In addition, butterfly valves are known as high-performance valves due to their suitability for applications at medium to high temperatures and pressures.
Find a Reliable ductile iron pipes and fittings supplier
Nonstandard and OEM products can be produced according to the drawings or samples provided by the customers. At the same time, we are certified by ISO9001:2008 Quality Management System / ISO14001: Environmental Management System.
SOLAIRE PIPELINE is specialized in producing ductile iron pipes and ductile iron pipes fittings for drinking water with standard ISO2531:1998/2009 and EN545:2010 and sewage water with standard EN598:2007. and grey cast iron pipes and fittings for drainage with standard EN877 and ASTM A888, and other related products such as valves, joints, flange adaptor for pe pipe, universal coupling, dismantling Joint. etc. If you want to get more information about joints and repair clamps wholesale, welcome to contact us.