When people buy steel pipes for their piping systems, we always see pipes being required to be coated with epoxy resin, such as 3PE or FBE. So what do you know about epoxy coated (3PE or FBE) pipes? Under what circumstances should it be used?
The following are brief answers
FBE pipes are coated with epoxy resin coating. So we say fusion bonded epoxy pipe.
3PE pipe is coated with epoxy resin inside, bonded layer in the middle, and polyethylene layer outside.
Epoxy coated pipe usage
3PE and FBE epoxy coated/coated steel pipes are widely used in pipeline systems for transporting fluids such as oil, gas, and water. They have strong resistance to corrosion by chemicals, moisture, harmful environment, etc.
What is FBE (Fusion Bonded Epoxy) coated steel pipe?
FBE coated pipe is a Fusion Bonded Epoxy coated steel pipe. It is an external thermal resin for pipes. A dry powder with a thickness of 400-600 microns is applied to the heated surface of the pipe. Once the FBE is applied to the pipe surface, the FBE film provides an extremely hard surface with strong adhesion to the pipe surface. The FBE layer is in a uniform form and has good chemical resistance. If You Are Finding FBE Coating Double Flanged Bend And En545 Double Flanged Bend In China, We Will Be Your Best Choose! We Have Our Own Factory, So We Can Give You A Cheap Price!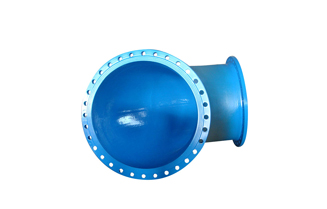 FBE Coating Double Flanged Bend
FBE Epoxy Coated Pipe Features
Advantages of FBE coated pipe are ease of application, lack of contamination, excellent resistance to high temperatures (-40°C to 85°C).
High strength and bending resistance.
Strong adhesion, good integrity, and resistance to soil stress and abrasion.
FBE coated steel pipes are usually buried in soil and underwater at temperatures between -40 to 85°C.
On the other hand, the drawback of the FBE pipe is that it is not very resistant to mechanical properties and wet conditions.
How many types of FBE epoxy coated pipes are there?
Developed in the 1950s and industrialized in the 1960s. There are two types of FBE pipes: one layer and two-layer pipes. FBE double-coated pipes are recommended for offshore pipelines and pipeline systems operating in harsh environments, where they offer high performance in terms of impact resistance and flexibility. It provides proper protection for the coating during transportation and construction.
And FBE single-layer coated pipe is the general type of FBE coated pipe. It provides a rough, non-slip surface for pipes that require a concrete coating. A special fusion bonded epoxy resin powder is mixed with solid epoxy resin and other adhesive materials that help adhere to the surface of the pipe.
What is 3PE epoxy coated pipe?
3PE epoxy coated steel pipe is three layers of coating, one layer is FBE coating, the middle is adhesive layer and the outside is polyethylene layer. 3PE coated pipe is another new product developed on the basis of FBE coating since the 1980s, which contains adhesive and PE (polyethylene) layers. 3PE can strengthen the mechanical properties of pipe, high resistance, water resistance, wear-resistance, and aging resistance.
It can protect the pipe from heat loss which is only 1/4 of the pipe.
3PE epoxy coated pipe includes 3 layers.
The first layer is fusion-bonded epoxy resin, whose thickness is more than 100μm. (FBE>100μm)
The second layer is adhesive, whose function is to bond epoxy resin and the PE layer. (AD: 170~250μm)
The third layer is the PE layer, polyethylene has the advantages of waterproof, resistance, and resistance to mechanical damage. (φ300-φ1020mm)
Therefore, 3PE coated pipe combines the advantages of FBE and PE. It is more and more widely used in the buried pipelines to transport water, gas, and oil.
In the case of manufacturing equipment, 3PE coated steel pipe manufacturers can also do FBE coated pipe.