Universal Coupling:

Universal coupling is a joint that provides an efficient and economical connection method for PVC pipes, ductile iron pipes and steel pipes. It is an ideal way to reconnect the pipes or connect two pipes to the pipe after removing the damaged PVC pipe. Surface with fusion bonding epoxy resin or polyester coating, suitable for drinking water.

1. Advantages of universal coupling
You can use the provided lever to lock the required length.
PVC anticorrosive coating has a long service life.
The integral tie rod assembly avoids the need for other external constraints.
Special configurations and high-voltage alternatives can be provided upon request.
Universal couplings are particularly suitable for simplifying the installation and disassembly of valves, flange pipes and pipe fittings.
2. Specification of universal coupling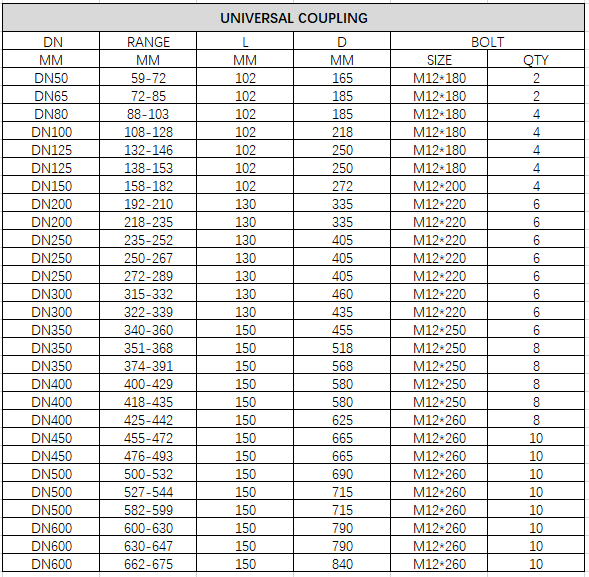 Features and Applications of universal coupling:
Connection for ductile iron pipe, steel pipe, PVC pipe and ect.
Working pressure: PN10/PN16.
Suitable for portable water, neutral liquids and sewage.
working temperature: 10℃ to +70℃.
Wars approved.
Application:
Sewage treatment project
Water treatment project
Power Equipment
Gas distribution station
Industrial cooling system
Gas
The universal coupling is used to transmit the pressure thrust of the connected pipeline and compensate the pipeline error, reducing the damage to the pipeline and the pipeline by the axial thrust. Universal couplings are usually used in conjunction with pumps, valves and other pipelines in the fields of water supply and drainage, water treatment, and water conservancy projects.
SOLAIRE PIPELINE is specialized in producing ductile iron pipes and fittings for drinking water with standard ISO2531:1998/2009 and EN545:2010 and sewage water with standard EN598:2007. and grey cast iron pipes and fittings for drainage with standard EN877 and ASTM A888, and other related products such as valves, joints, manhole covers and water meters.
Welcome to contact us for more detailed information about universal coupling and ductile iron pipes!